Glen Herbert
Editor/Writer, Our Kids Media
February, 2021
---
A new way to tell your school story: Our Kids Insider Perspective video series
We're delighted to share with you the launch of a powerful new school-choice resource: The Our Kids Insider Perspectives Video Series. In this series of 150+ videos, we interviewed school reps, parents, alumni, and current students to generate maximum insight, expanding on the information parents get from in-person visits and word-of-mouth conversations. Each video interview offers an honest, first-person perspective on a school's culture, strengths, challenges, and more, and gives schools a unique opportunity to tell their most human (and evocative) stories.
The Our Kids Insider Perspective series provides the largest video repository of information about Canadian private schools furnished by school insiders. It gives prospective families a new and powerful medium to acquire special insights about schools currently unavailable anywhere else on the marketplace. We also expect this new series to illuminate the entire school-choice process—from discovery to enrolment—helping parents make better and more informed decisions.
The video interviews are featured on school profiles (see example) as well as our industry-leading Private School Review hub. They'll also be showcased in our soon-to-be launched video portal, which will contain hundreds of diligently curated video interviews that address parents' specific questions, concerns, and interests. Since this will provide parents with a new and powerful way to research and evaluate schools, we consider it a significant part of our growing platform and our continual evolution into a virtual school-placement consultant.
2021 Renewal Bonus
Schools that book their Our Kids membership by March 4 will receive a free Insider Perspective video interview ($1,800 value). For more information about membership renewal, please contact your account manager directly.
A refreshed look
School Landing page
We've redesigned our main school landing page to give it a fresh look, but also to showcase our search and compare tools: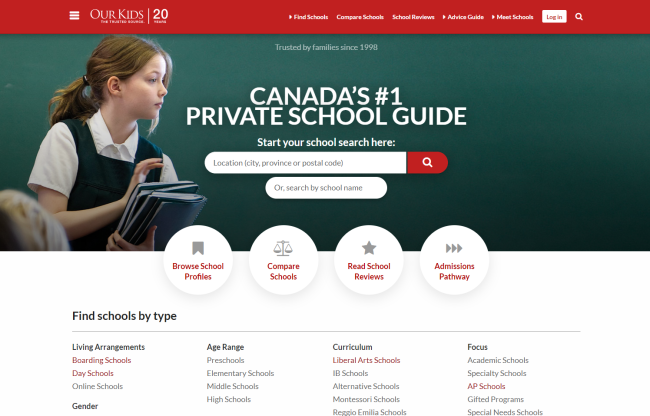 Private School Review Hub
We've redesigned our Private School Review Hub, making it easier to find relevant school reviews, Our Takes, and newly added videos all in one place.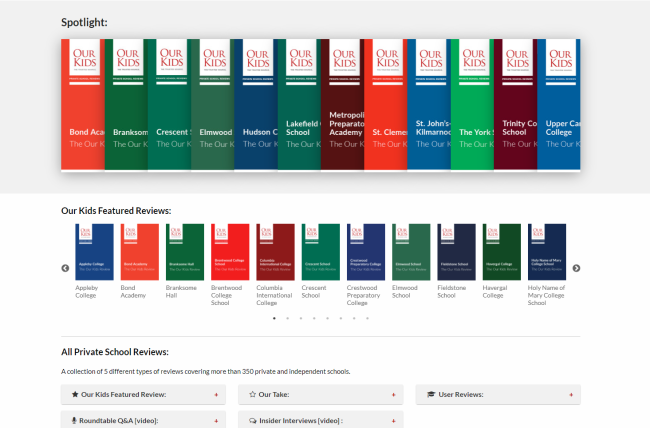 ---
How Institutions Are Using Surface in the Classroom
This video was clearly made pre-COVID, but that's one of the reasons it's so useful. For the past year we've seen technology as a kind of stop gap, the Plan B for when we can't enact Plan A, which is learning together in person. But, of course, technology isn't a Plan B, but rather a way of adding a valuable dimension to any learning situation. It's all in how you use it.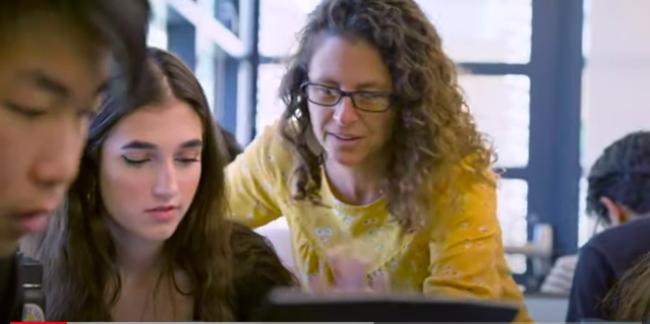 ---
The Our Kids Survey
Thanks to all who completed the survey. The two lucky winners of the Apple AirPods are:
Glenn Woods from Montessori Jewish Day School
Dorothy Reimer from North Point School for Boys
We will mail your prizes directly to your school.
If you didn't complete the survey, we'd still love to hear from you.
Take the survey